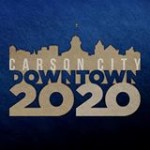 DOWNTOWN IS THE MELTING POT OF OUR COMMUNITY
"IT IS THE HEART THAT KEEPS OUR CITY BEATING"
---
The Downtown 20/20 group, A 501c3 non profit organization, is about establishing a strong downtown core that is people and business-friendly. Our focus has been to create a walkable friendly environment that will attract new retail businesses that will establish a downtown community of all generations.
WE HAVE BEEN INSTRUMENTAL IN ACCOMPLISHING AND WORKING ON THE FOLLOWING:
Removal of the downtown fence to make businesses accessible
Approval of 1/8% sales tax for Downtown & City improvements
COMPLETED:
Changed the streetscape from 4-2 lanes with turn lane and parking
Bike Lane
20' Sidewalks that would be ADA and Senior Accessible
Seating, Landscaping & Amenities
Downtown Transportation
501c3
"Historic Mainstreet" Boundaries begin at the North Entrance at 395 and Williams Street (Hwy.50), with the gateway entrance beginning at Robinson to 5th Street to the South entrance at Stewart Street and 395.
DOWNTOWN 20/20 MISSION & VISION STATEMENT
Mission Statement:
Through partnerships and collaboration, promote innovative ideas and action plans that will enhance and support downtown Carson City.
Vision Statement:
Carson City is preferred destination where business thrives, culture and the arts are celebrated and people come to play–a place where all generations come together to form a community.
WE WELCOME NEW MEMBERS FOR OUR CITIZENS COMMITTEE!
Contact:
Doreen Mack, President
775-885-2444
Like us on Facebook: Downtown2020